The Entrepreneur Hall of Fame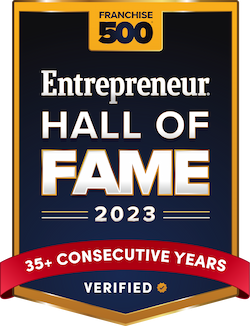 Joining an elite group of franchise brands, Huntington Learning Center has been inducted into Entrepreneur magazine's esteemed Hall of Fame. For nearly 45 years, Entrepreneur magazine has been one of the most prominent publications for research and market trends within the franchise industry. Now, its Hall of Fame honors the brands that have stood the test of time and continue to offer beyond and above investment opportunities for aspiring entrepreneurs. Brands included in the Hall of Fame have been consistent regulars on Entrepreneur's highly lauded Franchise 500 ranking, the most comprehensive and extensive analysis of franchise systems used by aspiring entrepreneurs looking for best bet investments.
"We've seen hundreds of brands come and go. But we've also seen brands that stand the test of time, continuing to offer opportunities to aspiring entrepreneurs year after year, and even becoming (or remaining) household names for decades," Entrepreneur wrote. "We've even seen brands that haven't just survived for years, but have consistently thrived—managing to rank on our highly competitive Franchise 500 list over and over again."
With nearly five decades of a proven and tested franchise concept, Huntington Learning Center has ranked 37 consecutive years on Entrepreneur's Franchise 500, and it's not hard to see why. Huntington Learning Center has more than 29% higher average revenue than its closest competitor in the tutoring industry. As part of its business model, Huntington Learning Center also offers diverse services across grades K-12, ensuring multiple revenue streams for franchise owners. It's also one of the most affordable franchise opportunities, with initial investments ranging as low as $148,017. And, on top of it all, Huntington Learning Center is in an industry that's only expected to grow, with the current $5 billion industry protected to hit $18  billion by 2028.
Over 35 Years Strong
You don't place atop the most esteemed franchise industry ranking for 37 straight years without doing something right. Indeed, Huntington Learning Center has built a legacy as one of the very best tutoring centers that provides results for children of all ages, while at the same time, offering a profitable and sustainable franchise opportunity for aspiring entrepreneurs. With more than 300 locations across the country, Huntington Learning Center has become the go-to name for parents looking for educational help for their children. In the process, our franchise owners have brought a much-needed service to their community that has the power to change lives.
"Now is the perfect time to get into Huntington Learning Center, because the need for help is stronger than ever," says Anne Huntington Sharma, President and Board Member of Huntington Learning Center. "The impact of the pandemic on students is very real. There's a generation of students who fell extremely behind, creating a crisis in education. Huntington Learning Center can solve this massive problem. It's what we've been doing for over 45 years; and, it's why our students' results are great and why our franchise owners perform so much higher than our competitors."
It's true – Huntington Learning Center has no plans to slow down. In fact, new territories are now available in prime locations throughout the U.S. With demand for tutoring and test prep at an all time high, there is ample opportunity for entrepreneurs to thrive. To find out if a Huntington Learning Center is right for your community, reach out and start a conversation today!
Learn More about Huntington Learning Center
Come join a Hall of Fame brand that's built a legacy of helping children reach their full educational potential, while at the same time making a great living. To learn more, visit our research pages here or make a request for more information today!